Lab Members:
Joshua Gendron
Assistant Professor
Molecular, Cellular, and Developmental Biology
joshua.gendron@yale.edu
---
Research Assistant: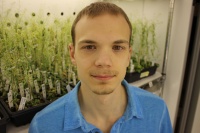 Christopher Adamchek
christopher.adamchek@yale.edu
Christopher is a Research Assistant who is interested in how the plant circadian clock intersects with stress pathways to improve plan fitness.  He handles the protein expressions and phenotyping (taking thousands of plant pictures) of the labs decoy library pipeline.  Outside of the lab you can find Chris pursuing his life passion of Karate.
---
Postdoctoral

:
Ann Marie Feke 
Ann is a Postdoctoral Associate and resident imager whisperer  She studies how protein degradation controls the circadian clock and has processed all of the circadian data for the labs decoy library.  Outside of the lab Ann is an avid reader and knitter and prefers to be doing both outdoors.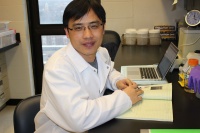 Wei Liu, Ph.D.
wei.liu@yale.edu
Wei is a Postdoctoral Associate focused on identifying the biological function of the circadian rhythms controlled F-box proteins.  Using the unique set of genetic tools named decoy method, he has identified several novel F-box proteins likely involved in the regulation of plant growth and development.
---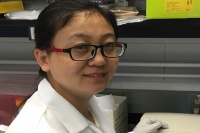 Qingqing Wang, Ph.D.
Qingqingwang927@gmail.com
Qingqing is a Postdoctoral Accociate working on the potential roles of F-box protein TLPs in plant growth and environmental stress in Arabidopsis.
---
Post Graduate: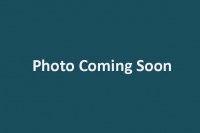 ---
Graduate Student(s):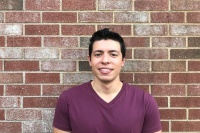 Daniel Tarte 
daniel.tarte@yale.edu
Dan is a Graduate student interested in researching how the plant circadian clock drives biological processes.  He will specifically be studying how cycling proteasome components affect accumulation of plant metabolites. Outside of the lab you can find Dan eating nutella or on a run to work off the nutella.
---

Chun Chung (Ted) Leung
ted.leung@yale.edu
Ted is a rotating graduate student interested in how the circadian clock affects plant growth and development. In particular, he will be studying the interaction of the clock with sugar signaling. Outside of the lab you can find Ted burning and cutting his fingers in the kitchen. 
---
Rotating Graduate Student: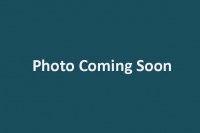 ---
Undergraduate Researcher(s):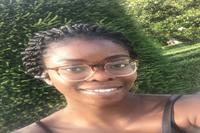 Jessica Asiedu 
jessica.asiedu@yale.edu
Jessica is an undergraduate student intern interested in plant response to abiotic stress factors.  She is currently studying the role of TLPs in plant growth and development.  Outside of the lab, you may find Jessica dancing to the rhythm of Afrobeats or gearing up to provide basic life support as an EMT.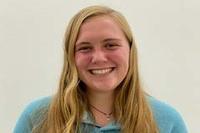 Harper Lowrey 
Harper is currently a first-year student in Berkeley College.
---
Visiting Researcher(s):
Kerstin Bieler 
Kerstin is a visiting master's student from Germany and interested in how plants use the proteasomal protein degradation system to cope with biotic and abiotic stresses. At the moment she is focusing on energy starvation responses of Arabidopsis decoys. Outside of the lab you will probably find Kerstin exploring Connecticut or wrapped up in a sofa chair reading the Discworld novels.
Alumni:
| | | |
| --- | --- | --- |
| Name | Role in Lab | Current Position |
| Milan Sandhu | Undergraduate |   |
| Elton Zhou | Undergraduate | Analyst, Business Consulting at Xelay Acumen, Inc. |
| Brandon Williams | Undergraduate | Associate at Elm Talent Group |
| Zhiping Deng | Visiting Scholar | Professor @ Zhejiang Agriculture & Forestry University |
| Annie Jin | High School Intern | University of Connecticut - PreMed Undergraduate |
| Catherine Chamberlin | Post Graduate | Ph.D Student at Duke University |
| Skylar McDermott | Undergraduate (Passage Program) | EMS School |
| Edward Schildnecht | Undergraduate (Passage Program) | Virginia Military Institute |
| Mairead Brennan | SSRI Intern | High School Student |
| Sung Mi Johnson | SSRI Intern | High School Student |
| Elijah Neveski | Under Graduate |   |
| Olivia Compagna | Intern 2017/18 Academic Year |   |
| Man Wah Li, Ph.D | Postdoctoral Associate 2017/18 Academic Year |   |
| Chin-Mei Lee | Postdoctoral Associate 2017/18 Academic Year | Postdoctoral Research Fellow at the Institute of Plant & Mirobial Biology at Academia Sinica in Taipei, Taiwan. |
| Bryan Thines | Visiting Scholar 2018/19 Academic Year | Associate Professor, Biology, University of Puget Sound. |
| Guido Secchiaroli  | SSRI Intern 2018/19 Academic Year | High School Student |
| Sammy Scheetz  | Intern 2018/19 Academic Year |   |
| Gabriela Soriano | SSRI Intern 2018/19 Academic Year | High School Student |
| Yi-Chun Huang  | Rotating 2018/19 Academic Year | Graduate Student |
| Vashaana Shadeo | Undergraduate Researcher 2018/19 Academic Year |   |
| Ariela Schear | Undergraduate Rsearcher 2018/19 Academic Year |   |